Details

Written by

Klaus Mayer

Category: Panoramas-New-South-Wales
Hits: 8538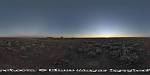 Panorama of a rising Full Moon during Sunset at One Tree Hotel. The full moon always rises close to the time the sun sets and occasionally the full moon rises a few minutes before the sun sets.
This impressive scenario is best seen on flat terrain of which the outback of Australia has plenty to offer. This photo was taken in October 2014 at One Tree Hotel on the Cobb Highway north of Hay.
A 360 degree panorama is probably the best option to capture this moment when the full moon appears opposite the setting sun. The outback setting on the vast plains north of Hay is also free of light pollution to make this event a great experience.
Details

Written by

Klaus Mayer

Category: Panoramas-South-Australia
Hits: 8478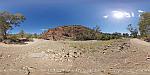 Panorama of Brachina Gorge in Flinders Ranges National Park, South Australia.
Brachina Gorge is one of the most spectacular and popular attractions in the Flinders Ranges National Park where a self guided geological trail passes through 130 million years of earth history.
Brachina Gorge is roughly 470 kilometres north of Adelaide and 200 kilometres northeast of Port Augusta. Brachina Gorge Road is unsealed but can be suitable for 2WD when conditions are good. The Flinders Ranges NP is one of the most scenic National Parks in Australia and offers a range of accommodation at Wilpena or Hawker.
Prior to European settlement in the mid 1800s aborigines had lived in the ranges for tens of thousands of years leaving behind rock paintings, rock engravings and many artifacts. The climate is semi arid with hot dry summers and cool winters, the average rainfall is very low with 250mm per annum.
Details

Written by

Klaus Mayer

Category: Panoramas-New-South-Wales
Hits: 7380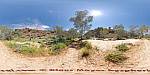 Panorama of Homestead Creek in the Mutawintji National Park, New South Wales, Australia.
This scenic outback park with colourful Bynguano Ranges is located between White Cliffs and Broken Hill. The rugged desert region had been continuously used by Aboriginals for thousands of years before European settlement. After a long struggle by the traditional owners the area was returned to them in 1998. The park is now held by the Mutawintji Local Aboriginal Land Council and a Board of Management oversees the operation of the park.
Details

Written by

Klaus Mayer

Category: Panoramas-Victoria
Hits: 7416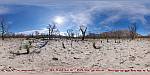 Panorama from the Roses Gap area in the Grampians National Park.
Panorama of the Roses Gap area recovering from bushfire 3 months after the 2014 Northern Grampians Complex fire. On 15 January 2014 seven fires were ignited by lightning across the Grampians NP. 3 of these fires combined and swept through the northern part of the Grampians NP and private property. One life was lost and approximately 52,000 hectares of land were burned along with thousands of sheep, wildlife and 10 houses in addition to sheds, cars and fencing.
Read more: Roses Gap after 2014 Northern Grampians Complex Fire, Grampians NP