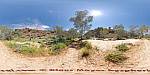 Panorama of Homestead Creek in the Mutawintji National Park, New South Wales, Australia.
This scenic outback park with colourful Bynguano Ranges is located between White Cliffs and Broken Hill. The rugged desert region had been continuously used by Aboriginals for thousands of years before European settlement. After a long struggle by the traditional owners the area was returned to them in 1998. The park is now held by the Mutawintji Local Aboriginal Land Council and a Board of Management oversees the operation of the park.
This content requires HTML5/CSS3, WebGL, or Adobe Flash Player Version 9 or higher.
---
map goes here!