Details

Written by

Klaus Mayer

Category: Panoramas-Victoria
Hits: 6366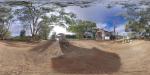 Panorama of the Millewa A Steam Pumping Station on the Murray River, Murray Sunset National Park, Victoria, Australia.
Millewa A Pumping Station is the last operational wood fired steam driven Victorian built pump on the Murray River. Situated at Lock 9 the pumping station can be reached via unsealed road from Lake Cullulleraine. The pumping station was constructed in 1927 and formed part of an irrigation system which supplied water to 462 soldier settler farms once a year. Water supply was limited to the winter months because 95% of the water evaporated in over 1,000 kilometres of open channels.
Details

Written by

Klaus Mayer

Category: Panoramas-South-Australia
Hits: 6299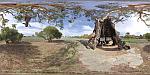 Panorama of the Herbig family tree in Springton, Adelaide Hills, South Australia.
Johann Friedrich Herbig arrived in South Australia from Bremen, Germany, in 1855. Herbig, the first German to settle here, made is home in this old hollow red gum tree at Black Springs as this area was then known. The tree, over 6 metres wide at its base and over 23 metres high, became his dwelling for 5 years. In 1858 Herbig married 18 year old Anna Caroline Rattey, also a Lutheran refugee from Germany, and both continued to live in the tree until a pine and pug dwelling was constructed after the birth of their second son.
Herbig arrived almost penniless in South Australia but by his death the family assets had grown to nearly 1,000 acres of land. Herbig and his wife had 9 boys and 7 girls. Herbig died at the age of 58 from brain damage after falling from a load of chaff.
Details

Written by

Klaus Mayer

Category: Panoramas-Victoria
Hits: 6673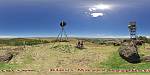 Panoramic views from Mount Rouse near Penshurst, Victoria, Australia. Mount Rouse is an extinct volcano on the outskirts of Penshurst. Mt Rouse offers uninterrupted views over the surrounding plains and towards the Grampians in the north, hence it is also site of one of the many fire towers in the bushfire prone state of Victoria.
Penshurst is a small town of about 500 people 275 km west of Melbourne, 31 km south-east of Hamilton, 50 km south-east of the Grampians. Penshurst is the centre of a large dairying, agricultural and pastoral district on a lava plain at the foot of extinct volcano Mt Rouse.
Before European settlement the Nareeb Nareeb and Kolor Aborigines occupied the area. Conflicts with white settlers and introduced diseases caused a rapid decline of the aboriginal population which could not be stopped by a reserve created around Mt Rouse in the 1840s.
Penshurst was laid out with very wide main streets to enable bullock trains to turn. Despite its declining population, Penshurst remains a tourist destination and an important service town to surrounding farms.
Details

Written by

Klaus Mayer

Category: Panoramas-New-South-Wales
Hits: 8719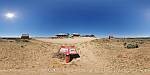 Panoramic views over the former silver mining town in outback New South Wales, Australia. For a short time Silverton was a busy mining town after silver was found in 1875. By 1888 Silverton was connected to South Australia via a tramway.
While most buildings had been relocated after the decline of its mining industry, the remaining ghost town has been used for advertising commercials and films like Wake in Fright, Mad Max 2, Razorback, A Town Like Alice, The Craig, Dirty Deeds and many others.
Today the town has become a popular tourist attraction with several art galleries, museums, cafes and the famous Silverton hotel. Silverton is 24km north-west of Broken Hill or 1,180km west of Sydney.