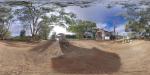 Panorama of the Millewa A Steam Pumping Station on the Murray River, Murray Sunset National Park, Victoria, Australia.
Millewa A Pumping Station is the last operational wood fired steam driven Victorian built pump on the Murray River. Situated at Lock 9 the pumping station can be reached via unsealed road from Lake Cullulleraine. The pumping station was constructed in 1927 and formed part of an irrigation system which supplied water to 462 soldier settler farms once a year. Water supply was limited to the winter months because 95% of the water evaporated in over 1,000 kilometres of open channels.
This content requires HTML5/CSS3, WebGL, or Adobe Flash Player Version 9 or higher.
---
map goes here!