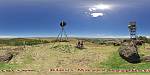 Panoramic views from Mount Rouse near Penshurst, Victoria, Australia. Mount Rouse is an extinct volcano on the outskirts of Penshurst. Mt Rouse offers uninterrupted views over the surrounding plains and towards the Grampians in the north, hence it is also site of one of the many fire towers in the bushfire prone state of Victoria.
Penshurst is a small town of about 500 people 275 km west of Melbourne, 31 km south-east of Hamilton, 50 km south-east of the Grampians. Penshurst is the centre of a large dairying, agricultural and pastoral district on a lava plain at the foot of extinct volcano Mt Rouse.
Before European settlement the Nareeb Nareeb and Kolor Aborigines occupied the area. Conflicts with white settlers and introduced diseases caused a rapid decline of the aboriginal population which could not be stopped by a reserve created around Mt Rouse in the 1840s.
Penshurst was laid out with very wide main streets to enable bullock trains to turn. Despite its declining population, Penshurst remains a tourist destination and an important service town to surrounding farms.
This content requires HTML5/CSS3, WebGL, or Adobe Flash Player Version 9 or higher.
---
map goes here!