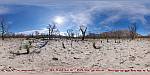 Panorama from the Roses Gap area in the Grampians National Park.
Panorama of the Roses Gap area recovering from bushfire 3 months after the 2014 Northern Grampians Complex fire. On 15 January 2014 seven fires were ignited by lightning across the Grampians NP. 3 of these fires combined and swept through the northern part of the Grampians NP and private property. One life was lost and approximately 52,000 hectares of land were burned along with thousands of sheep, wildlife and 10 houses in addition to sheds, cars and fencing.
This content requires HTML5/CSS3, WebGL, or Adobe Flash Player Version 9 or higher.
---
map goes here!