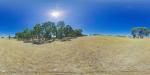 Panoramic views of the Grampians ranges with the ruins of an old farm cottage at Great Western Victoria, Australia.
Great Western is a small highway town in the Wimmera region, 225 kilometres north-west of Melbourne. European settlement of the area started with the arrival of graziers in the region until the Victorian gold rush drew thousands of people to the area. Today, Great Western is known for its many vineyards and wineries.
This content requires HTML5/CSS3, WebGL, or Adobe Flash Player Version 9 or higher.
---
map goes here!