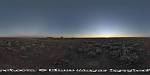 Panorama of a rising Full Moon during Sunset at One Tree Hotel. The full moon always rises close to the time the sun sets and occasionally the full moon rises a few minutes before the sun sets.
This impressive scenario is best seen on flat terrain of which the outback of Australia has plenty to offer. This photo was taken in October 2014 at One Tree Hotel on the Cobb Highway north of Hay.
A 360 degree panorama is probably the best option to capture this moment when the full moon appears opposite the setting sun. The outback setting on the vast plains north of Hay is also free of light pollution to make this event a great experience.
This content requires HTML5/CSS3, WebGL, or Adobe Flash Player Version 9 or higher.
---
map goes here!