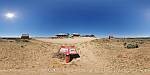 Panoramic views over the former silver mining town in outback New South Wales, Australia. For a short time Silverton was a busy mining town after silver was found in 1875. By 1888 Silverton was connected to South Australia via a tramway.
While most buildings had been relocated after the decline of its mining industry, the remaining ghost town has been used for advertising commercials and films like Wake in Fright, Mad Max 2, Razorback, A Town Like Alice, The Craig, Dirty Deeds and many others.
Today the town has become a popular tourist attraction with several art galleries, museums, cafes and the famous Silverton hotel. Silverton is 24km north-west of Broken Hill or 1,180km west of Sydney.
This content requires HTML5/CSS3, WebGL, or Adobe Flash Player Version 9 or higher.
---
map goes here!