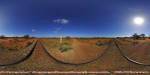 Panorama of a railway crossing in outback South Australia.
The railway crossing is south of Island Lagoon on the route of The Ghan which operates between Adelaide and Darwin. This area along Stuart Highway presents travellers with the typical vast plains of the outback covered in low shrubs and red earth.
This content requires HTML5/CSS3, WebGL, or Adobe Flash Player Version 9 or higher.
---
map goes here!