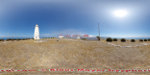 Panorama of Cape Willoughby Lighthouse and Backstairs Passage on Kangaroo Island.
Cape Willoughby was the first lighthouse in South Australia erected in 1852 and stands on the southern shores of the narrow Backstairs Passage between Kangaroo Island and mainland Australia. The lighthouse is 20.5 metres high and stands 75 metres above sea level on the eastern extremity of the island.
This content requires HTML5/CSS3, WebGL, or Adobe Flash Player Version 9 or higher.
---
map goes here!