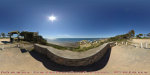 Panoramic views from Surveyor Point over Port Vincent and Gulf Saint Vincent.
The small coastal town of Port Vincent is located on the Gulf St. Vincent on the east coast of Yorke Peninsula.
This content requires HTML5/CSS3, WebGL, or Adobe Flash Player Version 9 or higher.
---
map goes here!