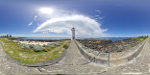 Panorama of Griffiths Island Lighthouse at historic Port Fairy on the Moyne River in Victoria.
The lighthouse made of bluestone was built in 1859 at the mouth of Moyne River on the eastern tip of an island which was then known as Rabbit Island.
This content requires HTML5/CSS3, WebGL, or Adobe Flash Player Version 9 or higher.
---
map goes here!