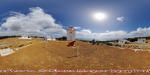 Panoramic views from Cape Borda Lighthouse.
The Cape Borda lighthouse is the shortest (10 metres high) and highest (155 metres above sea level) lighthouse in Australia. Located on the remote north-west corner of Kangaroo Island, the lighthouse has been in operation since 1858. Cape Borda lighthouse is the 3rd oldest lighthouse and only square shaped lighthouse in South Australia. The small canon was originally put in place to be fired during fog to signal ships of danger but since its restoration in 1999 the cannon is fired daily at 1pm. The headland is named after the French mathematician, physicist, naturalist, and sailor Jean-Charles de Borda.
This content requires HTML5/CSS3, WebGL, or Adobe Flash Player Version 9 or higher.
---
map goes here!