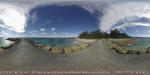 Panorama of Murray's Boat Ramp in Booderee NP
Booderee means bay of plenty or plenty of fish in one of our languages, the Dhurgalanguage. Booderee is owned by the Wreck Bay Aboriginal Community. This scenic coastal National Park offers great beaches for water sports and plenty of fauna and flora for visitors who want to enjoy nature.
This content requires HTML5/CSS3, WebGL, or Adobe Flash Player Version 9 or higher.
---
map goes here!