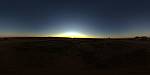 Panorama of One Tree Hotel at sunset.
One Tree Hotel was once an important watering stopover for cattle droves from the outback to the markets in the south. The locality One Tree was named after a single large tree which stood nearby at the time. While the respective tree no longer exists, others had been planted around the dams near the recently refurbished hotel.
This content requires HTML5/CSS3, WebGL, or Adobe Flash Player Version 9 or higher.
---
map goes here!