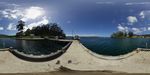 Panoramic view of Carnarvon Bay and Port Arthur Historic Site the largest historic penal station in Australia.
Port Arthur is located about 60 kilometres south-east of Hobart on the Tasman Peninsula on the shores of Carnarvon Bay.
The site was named after Lt Governor George Arthur and was the largest penal station in Australia between 1833 and 1877.
This content requires HTML5/CSS3, WebGL, or Adobe Flash Player Version 9 or higher.
---
map goes here!