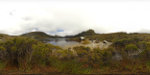 Boat shed at Dove Lake in Cradle Mt - Lake St Clair National Park.
The view across Dove Lake to the jagged dolerite peak of Cradle Mountain is considered as one of Tasmania's natural highlights. Cradle Mountain forms the northern end of Cradle Mountain - Lake Saint Cliair National Park in Tasmania's north. The NP is part of the Tasmanian Wilderness World Heritage Area which protects the remaining ancient rain forests, alpine heath lands and deciduous beech forests.
This content requires HTML5/CSS3, WebGL, or Adobe Flash Player Version 9 or higher.
---
map goes here!