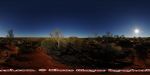 Panorama of sunset at Uluru aka Ayers Rock. The Uluru Kata Tjuta National Park is despite its increasing commercialisation a must see destination of many people's bucket list. While air travel provides a convenience alternative, only the long drive through the vast flat plains covered in red sand and small shrubs offers the feeling of excitement when Uluru appears on the horizon.
The unbelievable red colour of the sand and the location in the heart of Australia give this region the name Red Centre which will remain a must see destination for both locals and visitors.
This content requires HTML5/CSS3, WebGL, or Adobe Flash Player Version 9 or higher.
---
map goes here!