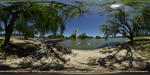 Panorama of Lake Burley Griffin with the National Carillon
the National Carillon was a gift from the British Government to the people of Australia celebrating the 50th anniversary of the National Capital. Queen Elizabeth II officially opened the National Carillon on 26 April 1970. The carillon is a set of at least 53 cast and tuned bronze bells, played from a mechanical-action keyboard.
This content requires HTML5/CSS3, WebGL, or Adobe Flash Player Version 9 or higher.
---
map goes here!