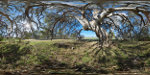 Panorama under the umbrella of wide branches of a large gum tree. Eucalypt trees, commonly known as gum tree play a dominant role in the Australian flora. The trees disperse fine drops of eucalypt oil into the atmosphere that not only causes a nice fragrance around gum trees but also increase the risk of fire to which these plants have adapted so well.
Limb hollows and broken branches provide nesting for cockatoos and parrots. River red gums grow along waterways and have heavy, hard, red coloured wood. While these trees are stunning in appearance they are known to drop large limbs without warning especially when under stress caused by high winds, extreme temperatures, drought, fire or flood.
This content requires HTML5/CSS3, WebGL, or Adobe Flash Player Version 9 or higher.
---
map goes here!