Details

Category: Panoramas-Victoria
Published: Saturday, 29 June 2013 10:35
Written by Klaus Mayer
Hits: 2365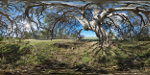 Panorama under the umbrella of wide branches of a large gum tree. Eucalypt trees, commonly known as gum tree play a dominant role in the Australian flora. The trees disperse fine drops of eucalypt oil into the atmosphere that not only causes a nice fragrance around gum trees but also increase the risk of fire to which these plants have adapted so well.
Limb hollows and broken branches provide nesting for cockatoos and parrots. River red gums grow along waterways and have heavy, hard, red coloured wood. While these trees are stunning in appearance they are known to drop large limbs without warning especially when under stress caused by high winds, extreme temperatures, drought, fire or flood.
Details

Category: Panoramas-Northern-Territory
Published: Wednesday, 12 June 2013 10:35
Written by Klaus Mayer
Hits: 2339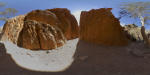 Panorama of Standley Chasm.
Standley Chasm is located 40km. west and 8km. north of Larapinta Road. It is now managed by representatives of Iwupataka, an aboriginal settlement on nearby Jay Creek, and is one of the most publicised attractions in Central Australia. 
Details

Category: News
Published: Thursday, 13 June 2013 07:49
Written by Klaus Mayer
Hits: 2026
This site is still very new but the conversion of the first images to Flash and HTML5 files is nearly complete and the site should now be working on most browsers including iPhones, iPads and Androids. Although the progress has been slow, I can now increasingly focus on adding new images, information, facts and opinions which may be of interest to visitors.
The main focus will remain on panoramic images from regional Australia because every country has large cities but very few countries have the large variety of natural scenery and more or less remote settlements where friendly locals still have time for a yarn without being affected by crazy traffic, hectic work and anonymity of the big smoke.
Details

Category: Panoramas-Northern-Territory
Published: Monday, 13 May 2013 10:35
Written by Superuser
Hits: 2185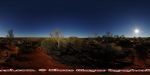 Panorama of sunset at Uluru aka Ayers Rock. The Uluru Kata Tjuta National Park is despite its increasing commercialisation a must see destination of many people's bucket list. While air travel provides a convenience alternative, only the long drive through the vast flat plains covered in red sand and small shrubs offers the feeling of excitement when Uluru appears on the horizon.
The unbelievable red colour of the sand and the location in the heart of Australia give this region the name Red Centre which will remain a must see destination for both locals and visitors.