Details

Category: Panoramas-Victoria
Published: Wednesday, 24 May 2017 00:00
Written by Klaus Mayer
Hits: 700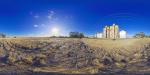 Panorama of large Guido Van Helten mural on grain silos in Brim in the Wimmera region of Victoria, Australia.
Artist Guido Van Helten painted the 30 metre high portraits of four farmers on disused grain silos over 3 weeks finishing early January 2016. Brim with a population of about 100 people is located 20 kilometres north of Warracknabeal or 360 kilometres northwest of Melbourne. The giant artwork was funded by Regional Arts Victoria and the Yarriambiack Shire Council.
Details

Category: News
Published: Saturday, 15 April 2017 11:14
Written by Klaus Mayer
Hits: 606
Smooth paved outdoor areas are a nightmare for many new VR photographers. The lack of control points between images can make it difficult to align images well enough without having grout joints running into tiles or tiles becoming distorted in the final panorama.
Bird droppings, discarded chewing gum or other blemishes can be of great help as control points when going through the stitching process.
Try to see the bright side when facing a stitching challenge, even the pair of sneakers or a plastic bag hanging off a powerline can help to get those much needed control points in the sky. If you want to get rid of blemishes in the final output, use Gimp or Photoshop to clean up the marks instead of removing valuable control points with a mop and bucket. To be on the safe side, never try to remove things from powerlines to get a good shot.
Details

Category: Panoramas-Victoria
Published: Sunday, 02 April 2017 00:00
Written by Klaus Mayer
Hits: 777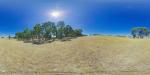 Panoramic views of the Grampians ranges with the ruins of an old farm cottage at Great Western Victoria, Australia.
Great Western is a small highway town in the Wimmera region, 225 kilometres north-west of Melbourne. European settlement of the area started with the arrival of graziers in the region until the Victorian gold rush drew thousands of people to the area. Today, Great Western is known for its many vineyards and wineries.
Details

Category: Panoramas-Victoria
Published: Monday, 30 January 2017 00:00
Written by Klaus Mayer
Hits: 891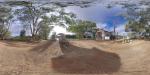 Panorama of the Millewa A Steam Pumping Station on the Murray River, Murray Sunset National Park, Victoria, Australia.
Millewa A Pumping Station is the last operational wood fired steam driven Victorian built pump on the Murray River. Situated at Lock 9 the pumping station can be reached via unsealed road from Lake Cullulleraine. The pumping station was constructed in 1927 and formed part of an irrigation system which supplied water to 462 soldier settler farms once a year. Water supply was limited to the winter months because 95% of the water evaporated in over 1,000 kilometres of open channels.