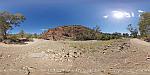 Panorama of Brachina Gorge in Flinders Ranges National Park, South Australia.
Brachina Gorge is one of the most spectacular and popular attractions in the Flinders Ranges National Park where a self guided geological trail passes through 130 million years of earth history.
Brachina Gorge is roughly 470 kilometres north of Adelaide and 200 kilometres northeast of Port Augusta. Brachina Gorge Road is unsealed but can be suitable for 2WD when conditions are good. The Flinders Ranges NP is one of the most scenic National Parks in Australia and offers a range of accommodation at Wilpena or Hawker.
Prior to European settlement in the mid 1800s aborigines had lived in the ranges for tens of thousands of years leaving behind rock paintings, rock engravings and many artifacts. The climate is semi arid with hot dry summers and cool winters, the average rainfall is very low with 250mm per annum.
This content requires HTML5/CSS3, WebGL, or Adobe Flash Player Version 9 or higher.
---
map goes here!